dixiebiz.com
!!Date Changed to April 9!!
(Click)

Latest and Greatest for Good Times!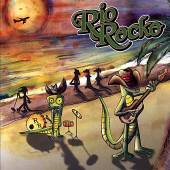 For all you fans of parrot head music, swamp rock, and other genres with a southern exposure, try "Rio Rocko." This compendium of new songs from a lot of famous names will knock your flip flops off!
Great fun in Long Beach! Second Night.
The All American Melodrama Theater in Seaport Village, across the channel from the Queen Mary, went into its second night of performances. The bill was "The Drunkard," a tale of a Dear Old Widow (Yay!) with a Gorgeous Daughter (Awwww!) being threatened by a Villain (Boo Hiss!) who was trying to poison (with Demon Rum) the Heir (Hooray!) to the land that the Dear Old Widow (Yay!) and her Gorgeous Daughter (Awwww!) occupied.
The Villain's (Boo Hiss!) plans are foiled by the Heir's (Hooray!) Unassuming Half Brother (Rah!). The plot of the play was thin, uninspiring, and totally predictable. That is exactly as it should be, and the crowd ate it up. The play was concluded with an old time American Vaudeville revue. This included songs, gags, and jokes that haven't been heard in a century. The old is new again, and great fun.
The theater has a snack bar with hot dogs and typical movie house fare that is available before the show and during the intermissions. The venue is small, so be sure to call for reservations. Walk the Seaport Village Boardwalk, but eat at the theater. The cast needs the money!
The All American Melodrama Theater is great fun, and you will laugh your heads off. We sure did, and there was a good time to hobnob with the cast after the show.
Check it out for yourself: http://www.allamericanmelodrama.com

REO HAYWAGON AT MOSS LANDING
A couple years ago, I had a job up north, and I stopped off at Moss Landing for some fried oysters. Things had really changed in the years since I had last stopped there. I had dinner at Phil's Fish Market, and I was quite surprised to find a great five piece bluegrass band playing up a storm. The small crowd could not sit still, the feet were tapping.
This group billed itself as "REO HAYWAGON." They sounded fine with a guitar, steel guitar (dobro), banjo, mandolin, and bass.
The word is that Phil's has similar local entertainment the first Wednesday of every month. Drop by the next time you are in the area of Moss Landing.
As for REO HAYWAGON they didn't have a CD album yet, but I was watching their website for when it came around the mountain.
Check it out at www.reohaywagon.com. It never came around the mountain. The band has vanished into thin air along with the web site. Bummer.

| | |
| --- | --- |
| | Dedicated to |
| | Preservation and |
| | Marketing of |
| | Traditional Jazz |
This week's featured album:

"One Side, One Edge"

--The Möbius Band

For midi files of over 422 ragtime tunes try:

These are all great. They sound like live performances.

There is no greater library of Ragtime ANYWHERE!

IT WAS BACK ON LINE:

NOW IT'S GONE AGAIN, BUT I'LL KEEP IT HERE SO YOU CAN MAKE A RECORD, JUST IN CASE.

For midi files of a bunch of bluegrass tunes try:

www.bluemax.com/info/Multimedia_test_